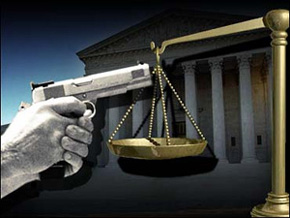 Well, that was quick.  And a unanimous decision (9-0) no less.  I wrote in detail about Henderson v United States (HERE) in March, so go there for the facts of the case, related statutes, and parties' arguments. (Note you are still good to go with the "Lessons Learned" discussion there). The actual 10-page May 18th opinion of the U.S. Supreme Court is HERE.  (I endeavor here not to confound you with any lengthy legalisms or scholarly analysis).
While the Court rejected almost all of what the Government argued, it did not — as I hoped it would — limit or reject the "constructive possession" theory, or give detailed guidance on the mechanisms for firearms dispossession.  The decision is nevertheless important to firearms owners who may run afoul of federal law which makes certain persons forever (felony conviction) or temporarily (mental/drug issues, pretrial release, probation, supervised release) barred from firearms "possession."  But note, the Court stated (in a footnote) ". . . our decision here . . . addresses only . . . court-supervised transfers of guns."
Here's a bullet point AAR of my attorney takeaways from Henderson:
Never let a client voluntarily surrender firearms to a law enforcement agency upon arrest or conviction.  Have a plan beforehand for dispossession, whether or not court involvement is necessary.
The Court's holding (paraphrased, italics emphasis mine):  A legally disabled person may transfer his guns to either a firearms dealer (for future sale on the open market) or some other third party.  Federal law does not bar such a transfer unless it would allow the legally disabled to later control the guns, so that he could either use them or direct their use.
Federal firearms disability limits possession, both actual and "constructive," but does not affect ownership, including the right to collect sales proceeds.
"Constructive" possession is shown when a person, though lacking physical custody, has the power and intent to exercise control over the use of firearms. The federal disability provision is interpreted to prevent a felon (and others, see prior post) not only from holding firearms personally, but also from maintaining control over their use while in the hands of another who may accede to the barred person's instructions about possession or use.
A person under firearms disability may select the initial transferee or buyer (FFL or non-licensee) if done in a manner which avoids both actual and "constructive" possession.  This may be done (in or out of court) with a pre-existing trust document or other written declaration which contains provisions for dispossession upon the occurrence of stated events.  So long as the recipient will not allow the barred person to exert any influence over their use.  Documentation for such transfers ought to include that the transferee acknowledges federal law, promises to keep the guns away from the legally-disabled owner, and will not allow such person to direct their use.  The barred person being dispossessed should not be present at the time of transfer or sale, or participate directly in those undertakings.
Reminder: Check state laws and procedures on dispossession of firearms due to pending state criminal or civil legal proceedings.  Henderson is a case about federal law firearms disability, so it does not address state concerns.
Praemonitus praemunitus. (And more work for firearms attorneys).
Disclaimer: No MSW post constitutes particularized legal advice, or creates an attorney-client relationship with a reader.