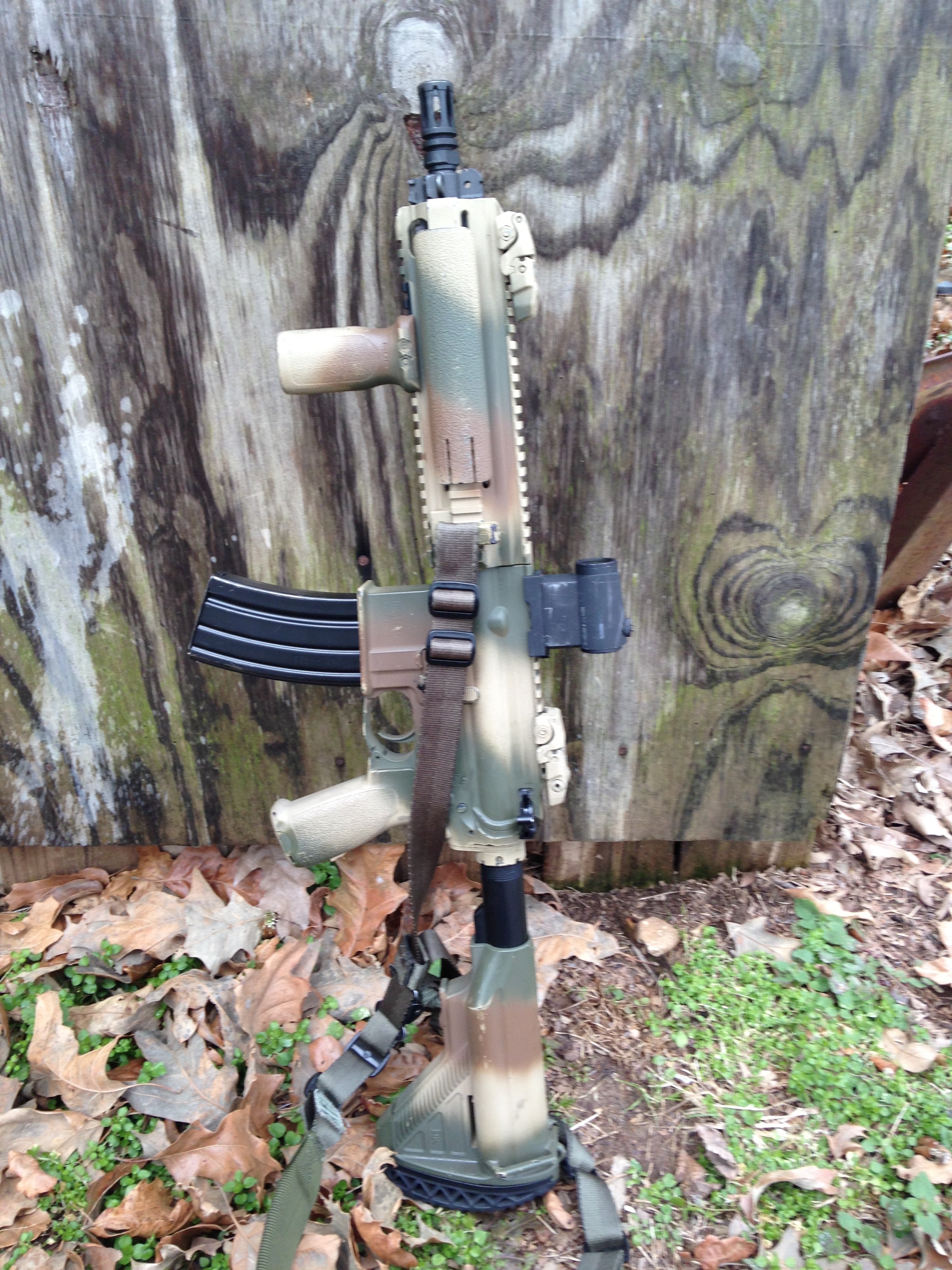 The HK416D is the ultimate in the cool guy kit.  I have been issued one for two years now.  I was dead set against the 416 when we were looking.  I was on the selection committee, and shooting the carbine was what won me over.  The gun has a very repeatable sight return.  At 10 yards, shooting at a pace of 1 shot per second, the dot tracks straight up and down in a 3×5 card.  Which makes rapid follow up shots out to 100 yards ridiculously fast.  Policy allows for a little customization.  My rifle is set up stock with a few exceptions.  I replaced the HK pistol grip with a Bravo Company Gunfighter grip.  I added a set of flip up Magpul sights, a Magpul vertical foregrip, and an Aimpoint T1.  The gun started life with a Haley Strategic Thorntail Mount, and a 600 lumen Streamlight.  But, after a failure with the light, it was removed and replaced with a Surefire Fury I had laying around.  After a lot of research, I purchased a Surefire Scout light and installed it with a S and S Precision mount.
Reliability-  Reliability has been as good as you'd expect from an HK product.  The gun hasn't been abused, but it lives a pretty hard life. I have shot a LOT of XM193 through it without a hiccup.  I've used both GI style metal mags, manufactured by D&H, and the latest generation Magpul mags.  Both have worked without issue.    Cleaning is a breeze, as with any piston gun.  After heavy firing, I simply remove the bolt, run a brush over it, wipe it down and reassemble.  There is no heavy carbon build up that you get with DI guns.  I clean the chamber, punch the bore and reassemble.  I lube the 416 much lighter than I do my personal DI guns.
The one word of warning I will give any agency thinking of buying 10.5 inch guns.  Across all of our guns, we've noticed a POA/POI shift between different bullet manufacturers.  Our duty ammunition is the Federal T1.  When we zero the rifles at 50 yards with the T1, our practice ammunition (Federal XM193)  prints 2-3 inches low at that distance.  It's not a huge deal, but it will cause you to scratch your head switching when you switch back and forth between the two.
All in all, for a guy that did not want the 416D, I'm pleased.