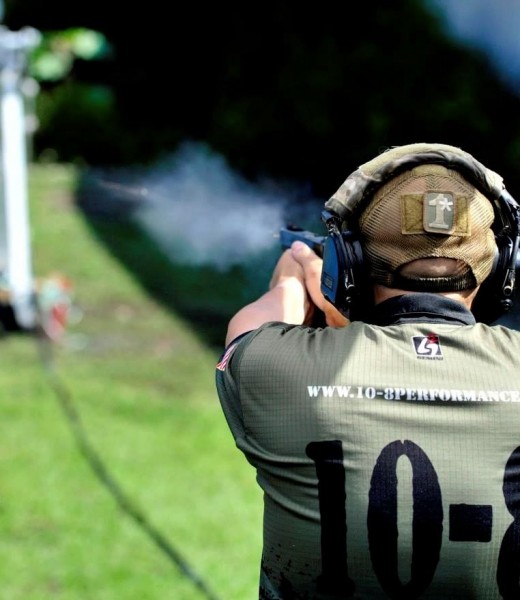 Last weekend I was at the range with a party of different shooters and friends.  There were several kinds of props and targets and everyone was having a good time shooting.  The group consisted of some novice shooters and at one station there was a military guy with his "babe" of a girlfriend.  She had taken up a stock Glock and was trying to knock down plates on the plate rack.  Well…she was struggling.  She was jerking the trigger, throwing shots repeatedly to the left driving through the magazine.  At this point, her "stud" came over and told her the all knowing advice of "slow dow and get your hits!"  Duh!  Just slow down and get your hits.  Of course this did NOT go well.  Our heroine tried her heart out but only managed to miss slowwwwly.
So did his sage advice work?  Not really.  Despite the good intentions, he only changed the time these misses occurred.  I didn't want to move in and cause friction between the stud and his dame, or myself, so I silently shook my head.
I reflected on how many times in my life I've heard that same quote.  It is a staple in the training community and to this day I still hear other instructors chant it.  Why is it a problem?  Let's look at what is happening to cause this issue.  The trainer is watching the student yank off rounds at what they believe is a fast pace and still missing what ever they are shooting at.
"Slow down and get your hits!"
Slow down.  Why slow down?  Is the time equation really the problem?  Where in the manual of arms does time factor in?  Sights, trigger, grip, stance, breathing….all fundamentals of shooting.  Speed control is no where mentioned.  But this is the first phrase shouted across many a range in the US.  Are the instructors hoping that jerking the trigger slowly will solve the problem?  Yes, you say.  That's it.  Pull the trigger slowly and sometimes the "hits" are there.  Now we are getting warmer.  So something happened when the trigger was pulled slow and smooth with no jerking.  Ok, but how can I shoot realistically at a snails pace when real life happens…fast.
If we break down what happened when the shooter pulled (pressed) slowly and the shot went off to impact the steel plate, we can understand why that worked.  The shooter allowed a proper trigger pull and "felt" the trigger instead of racing through it.  You could call this "paying attention" to the trigger.  And that's a good thing since 99.9% of missed shots are bad trigger pulls.  What else could a shooter pay attention to?  How about their sights?  Seeing the sight on target and lift without being disturbed (trigger) will also guarantee success.  I sense a trend…
So, maybe, instead of shouting "slow down" you can say "pay attention..and get your hits!"