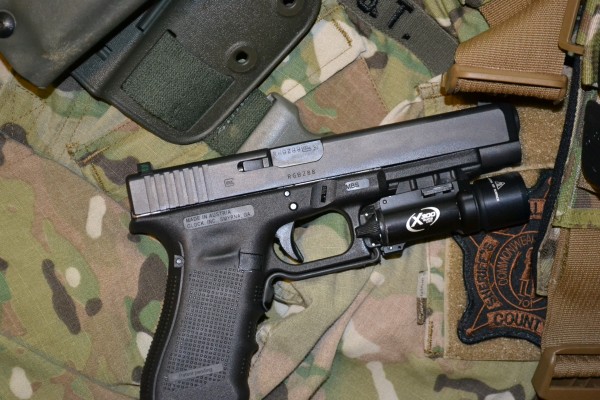 At just about every class we teach, we have a certain percentage of folks that show up with carry pistols with extremely light triggers.  Earlier this year, we taught a class out on the west coast for a large Sheriff's Office.  This office has a VERY liberal firearms policy that accepted various types of aftermarket parts, and exceptionally light trigger work.  There were some M&Ps, Glocks, and M1911s with triggers that weighed in ounces.  On duty pistols.
That school of thought took me back about 10 years.  I was carrying SIG products at an agency that had a liberal policy like the one above.  I ran into Bruce Gray, the over lord of all things SIG, and asked him to do a trigger job on a P226ST.  Bruce asked me what the intended use of the pistol was to be, as he did not advocate light triggers for duty use.  I lied through my teeth and said it was a competition pistol.  I got the pistol back, slid it into an Uncle Mike's Pro 3 and off to work I went.  I just knew light triggers made me a better shot.
Fast forward 10 or so years, and I understand in duty applications how wrong I was.  Fact of the matter is that a light action job basically just turns the trigger into an "On/Off" switch that gives very little control to the shooter.  The perceived advantage is actually that light triggers will mask to a certain degree poor trigger control on coarse targets.  But it is important not only to get on the trigger aggressively when the time comes, but also to be able to get off of it when the conditions of the threat change.  A smooth action job on a service pistol allows both.  I used to curse the stock trigger on a Glock as being "un-shootable".    These days, a smooth action job on a relatively stock Glock trigger is probably one of the most "shootable" triggers out there.  I actually prefer it as it gives me enough sponge to prep it aggressively, but the control to get off of it when the conditions change.   And my trigger control is better for it, keeping me honest even at the pace of .20 splits.  Same with the M&P.
Oh, and that west coast Sheriff's Office?  By the end of day three, parts were swapped out, guns exchanged for near stock configuration, and they admitted they were shooting faster, and more accurately than ever.