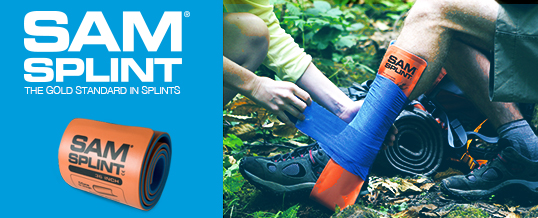 Whether flat or rolled, they take up little space, and weigh almost nothing. Proven highly useful in everyday civilian aid, search and rescue, military, sports, and back country applications.  From the sammedical website: "Built from a thin core of aluminum alloy and sandwiched between two layers of closed-cell foam, the SAM Splint can be bent into any of three simple curves, becoming extremely strong and supportive for any fractured or injured limb."   And yes, there is a guy named Sam — he's an MD, and the company's founder and CEO.
I carry one flat or rolled 36-inch SAM® SPLINT in my smaller "to go" emergency kit.  It can be cut if needed, and has a QR code linked to a training video which I confirmed works on my IPhone. I carry several of each size (finger, 9, 18, and 36-inch) in my comprehensive med/trauma kit.  I pair them with rolls of gauze, elastic bandage, and cohesive wrap, a triangle bandage (for shoulder-arm sling), and the company's small wilderness-style picture handbook showing the various curves and applications.  I have used them to night-splint fingers, splint a wrist/forearm, and to immobilize a knee with fresh meniscus/ligament damage. The now classic orange/blue version is probably most identified with the SAM® SPLINT. You can also find them in tactical colors — charcoal gray and olive drab. There is a cushioned product, the Soft Shell® Splint, specifically for hand, wrist, and forearm strains and injuries which require extended wear.
The SAM® SPLINT is not only an important wilderness, battle, duty, sports, workout, and range med kit item, it is also a must have for in-home and vacation travel. With self-application, an injured person can move less painfully, bear weight, and even walk or drive to obtain emergency/professional medical care.  Or maybe just finish the day at a Disney park after an ankle sprain. (Hint: See Figure of Eight application).
L I N K S
SAM videos:   Introductory    /    Applications 
Rescue-Essentials:   This vendor designs various combo kits,  click on the image below for the combo shown.  Offers discounted prices, quick flat-rate ($4.99) shipping, and carries complete Sam Medical line and other casualty/rescue items.  I recently ordered some backup SAM items from them and chatted with Jorian Sartorius, the company's Chief Technology Officer.  Agency or group purchases — need a custom medical/rescue kit?  They can do it.   Give Jorian a call.  Tell him MSW sent you.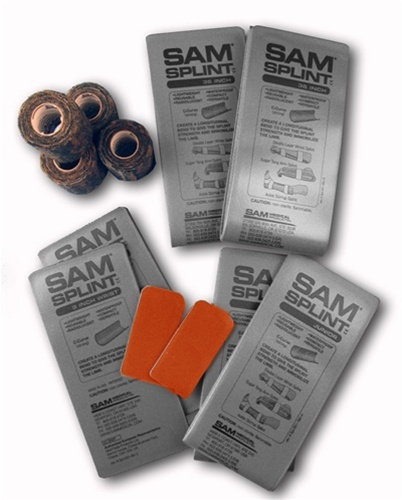 "Bone splint" even sounds bad, so stay safe,  and of course, buy —